URGENT BREAKING NEWS
ISIS Declares New Islamic Caliphate

By Ray Gano
This is HUGE BREAKING NEWS.
Folks, many of you know that I believe that the Antichrist will come out of the Middle East.
SO what does this mean, all this ISIS caliphate stuff?
What we are seeing right now taking place very well could be the beginning of the 10 nation alliance coming together under the banner an ISIS caliphate.
Yes I know, it is hard to believe, but yes I have been promoting this idea for a while now.
What is amazing is that if you take a map of the old Assyrian Empire and over lay what ISIS currently controls, they match up almost identical. SO all of this is taking place exactly where it should, Syria (the leopard) and Iraq (the lion).
Iran (the bear) will soon join and although they may not agree with the ISIS Caliphate policies, in the end it will give it their support.
Why is this important?
What we are witnessing here is possible prophecy coming to pass because when we look at the statue spoken of in Daniel we remember it is the revived empire of the last days and that revived empire had feet of iron and clay.
ISIS is Sunni, in fact 90% of all Islam is Sunni and Iran is Shite (shia). In other words, iron and clay and these two do not mix well together in a solid cohesive manner. What we know is that the Antichrist's confederacy is weak and basically being held together with bubble gum and duct tape.. To put it in a modern vernacular– Iron and Clay.
If Iran does join, which ISIS has the military numbers and are growing daily, the leopard-lion-bear beast we read about in Revelation 13 comes to fruition and starts rising up. Soon seven other nations will join the Caliphate / confederacy.
It is the the 11th horn (nation) is where the antichrist will originate from. In the beginning he will be seen as an insignificant player politically. But then he will subdue three of the ten nations in the Confederacy / Caliphate alliance and will be given political authority by the rest of the nations remaining in the Caliphate / Confederacy.
IF all of this takes place, what I believe is that ultimately the person who leads that confederacy will be the Muslim Messiah – The Mahdi. We know him as the Christian Antichrist or his better known name, The Assyrian.
I know that some of you think that I am off my rocker and going crazy, but those of you who do believe and have studied that the AC will rise out of Islam will understand the major importance that this story means.
To help bring some of you up to speed here are some videos that I produced back in 2009 / 2010 — yes I have been preaching and teaching Islam's role in bible prophecy for some time now.
First is a really great interview I did with Walid Shoebat when his book "God's War on Terror" came out.
Ray Gano Interviews Walid Shoebat Pt 1 – http://youtu.be/ZDc4I0hkV6Y
Ray Gano Interviews Walid Shoebat Pt 2 – http://youtu.be/bLxEYNBS6Pc
Ray Gano Interviews Walid Shoebat Pt 3 – http://youtu.be/HPfSUxz-Sww
East Says / West Says-Fulfill the Beheading of Rev 20:4? – WATCH NOW >>> http://youtu.be/2fVwv7r-Nqw
East Says / West Says – The Catholic Church The O.W.C? – WATCH NOW >>> http://youtu.be/sLqozPwmYQw
East Says-West Says – The Beast System in Place? – WATCH NOW >>> http://youtu.be/RM5rMUpcJvc
And for all those out there who still think that our current president is a great Christian man, here is a video where I show his ties to Islam.
Obama's Muslim Faith – WATCH NOW >>> http://youtu.be/QYWeK4w3PKk
Three and half hour Bible Study Audio Teaching

I will probably be pulling an all nighter editing a 3.5 hours bible study that I just finished giving today. We did not cover what I had on the agenda, but covered this breaking news and what does it mean in light of bible prophecy.
My goal is to have this edited and finished so that I can put it out there for everyone and announce it with the PZ Insider Report. I had some great information as well as some special guest audio from Chuck Missler talking on an Islamic Mark of the Beast idea.
I am currently working on getting hold of Joel Richardson and Walid Shoebat to see if I can get some comments from their perspective. I have also been in contact with my old friend Rodrigo Silva and I will be running one of his great articles in The PZ Insider Report tomorrow.
When I catch up with these guys and if I can get them on the air, I will produce a PZ Radio show and post it there so that you can listen to the commentary.
Following are breaking news articles from several news agencies. Pay close attention to the UK Independent, they are reporting on Russia sending some air support to help Iraq.
STAY UP ON MY NEWS — I am now sending out to so many people that it takes all day just to send to all my readers in our database. So when breaking news takes place. I may not be able to send it out right then and there.
IF you want to stay up to the minute with what I learn, join my Facebook page and FRIEND me.
BUT… When you friend me, if you hold your mouse pointer of FRIEND you will see a drop down that says GET NOTIFICATIONS. Click on that and every time I post news, you will be instantly notified.
FRIEND ME NOW >>> https://www.facebook.com/RayGano

There is a LOT going on and I want to make sure that my Prophezine family stays up to the minute with what is going on.
Finally – Please Help Support Our Work Here
If this Caliphat comes to true fruition then this is a HUGE game changer in the world of Bible Prophecy and I will be spending many late nights focusing on this so that I can get you the news as fast as possible.
HELP SUPPORT PROPHEZINE — http://tinyurl.com/Donate-to-Prophezine
Lastly, please pray for me and Tracye. We are sticking our necks out on this and in the past have been hammered by the ministries that do not agree with the whole Muslim Antichrist idea. It took its toll on me personally and lost good friends in the minstry because of it.
Pray also that God blesses our work and that in all that we do we continue to be a good witness for the Lord and always be ready to share the hope that is within us.
In His Service,
Ray & Tracye Gano

THIS JUST IN….
ISIS Now Openly Operating in Gaza – Flags Seen Waving at Funeral (VIDEO)
Mourners in Gaza were seen carrying black flags of the bloody Islamic State in Iraq and Syria (ISIS) terror group at a funeral on Sunday for one of two terrorists Israel targeted in an airstrike on Friday, Israel's Ma'ariv daily reported.
Analysts said this was the first such open sign of local support for the group (also known as the "Islamic State in Iraq and the Levant"), which is engaged in fierce battles for control of Iraq, and in Syria, in order to create a unified Islamic caliphate.
Israeli and other western intelligence services have warned that the group's influence is spreading and may have set down roots in the coastal enclave.
The Israeli Air Force struck Osama Has​sumi, 29, and Mohammad Fatzih, 24, with a direct missile, as they traveled in a vehicle along the Gazan shore.
" ​Militants, like Hassumi and Fatzih, attacking Israel from Gaza, are not safe, do not have immunity, and will not be free to plan, plot and operate," IDF Spokesman Lt.-Col. Peter Lerner said on Friday.
"We will continue to strike the instigators and agitators with patience, determination and precision. Gaza rocket terrorism does not pay," he said.
Defense Minister Moshe (Bogie) Ya'alon said in Friday that the IDF would foil "rocket fire on Israel or attempted attacks on our civilians or troops. We will hunt down those who carry out or plan [these attacks], like we did today."
While it is unclear if either of the two were, in fact, directly backed by ISIS, the IDF said the two were behind volleys of rockets fired into Israel over the last two weeks, and belonged to the "Salah e-Din Brigades" of the Popular Front.
Meanwhile, Hamas, which controls the strip, "categorically denied Egyptian security claims that ISIS terrorists infiltrated Sinai through Gaza tunnels," according to the al-Kassam website.
On Saturday, Iyad Bazam, a spokesman for the terror group, called the claims, "blatant lies," and said they were "part of the ongoing Egyptian smear campaign against the Gaza Strip."
On Saturday night, six rockets fired from Gaza struck Israel, with two hitting a populated building.
"Over the course of the weekend 12 rockets hit Israel and over the past two weeks 25 rockets hit Israel. Approximately 50 rockets were launched at Israel over the past two weeks," the IDF said in a statement.
"In response to the rocket attacks that hit Israel earlier this evening and in order to prevent further attacks on Israeli civilians, an IAF aircraft targeted three terror activity sites and three concealed rocket launchers in the southern Gaza Strip, a weapon manufacturing site in the northern Gaza Strip and a terror activity site and weapon manufacturing site in the central Gaza Strip," the statement read.
Watch the video below believed to show the Israel Air Force targeting the terror operatives:
WATCH NOW >>> http://youtu.be/iv6pQeoUwoI
Source – http://www.algemeiner.com/2014/06/29/isis-now-openly-operating-in-gaza-flags-seen-waving-at-funeral-video/
---
BREAKING NEWS — FOX News
ISIS declares new Islamic caliphate
BAGHDAD – The Al Qaeda breakaway group that has seized much of northern Syria and huge tracks of neighboring Iraq formally declared the creation of an Islamic state on Sunday in the territory under its control.
The spokesman for the Islamic State of Iraq and the Levant, Abu Mohammed al-Adnani, made the announcement in an audio statement posted online. Islamic extremists have long dreamed of recreating the Islamic state, or caliphate, that ruled over the Middle East in various forms for hundreds of years.
Abu Mohammed al-Adnani declared the group's chief, Abu Bakr al-Baghdadi, as the new leader, or caliph, of the Islamic state, and called on those living in areas under the organization's control to swear allegiance to al-Baghdadi and support him.
"The legality of all emirates, groups, states and organizations becomes null by the expansion of the caliph's authority and the arrival of its troops to their areas," al-Adnani said. He added that with the creation of the caliphate, the group was changing its name to just the Islamic State, dropping the mention of Iraq and the Levant.
Al-Adnani loosely defined the caliphate's territory as running from northern Syria to the Iraqi province of Diyala — a vast stretch of land straddling the border that is already largely under the Islamic State's control.
It was unclear what immediate practical impact the declaration would have on the ground in Syria and Iraq, but analysts expected it to have a dramatic effect on the wider jihadi community.
Charles Lister, a visiting fellow at the Brookings Doha Center, said it will likely have a global impact as Al Qaeda affiliates and "independent jihadist groups must now definitively choose to support and join the Islamic State or to oppose it."
"The Islamic State's announcement made it clear that it would perceive any group that failed to pledge allegiance an enemy of Islam," he said. "Already, this new Islamic State has received statements of support and opposition from jihadist factions in Syria. This period of judgment is extremely important and will likely continue for some time to come."
But the greatest impact, Lister said, may be on Al Qaeda, the organization that for years has carried the torch of international jihad.
"This announcement poses a huge threat to Al Qaeda and its long-time position of leadership of the international jihadist cause," he said in emailed comments. "Taken globally, the younger generation of the jihadist community is becoming more and more supportive of (the Islamic State), largely out of fealty to its slick and proven capacity for attaining rapid results through brutality."
Al-Baghdadi has long been at odds with Al Qaeda leader Ayman al-Zawahri, a spat that became public after al-Baghdadi ignored al-Zawahri's demands that the Islamic State leave Syria. Al-Zawahri formally disavowed the Islamic State earlier this year.
http://www.foxnews.com/world/2014/06/29/isis-declares-new-islamic-caliphate/
---
BREAKING NEWS — National Public Radio (NPR)
Sunni Extremist Group ISIS Declares New Islamic Caliphate
The Islamic State of Iraq and Syria, the Sunni militant group that's been leading an insurgency in Iraq, made a bold statement today: The organization's Shura Council has declared a new caliphate, and the organization's extremist leader, Abu Bakr al-Baghdadi, is the new caliph.
Uncredited/AP
, the caliphate refers to a "system of rule that ended nearly 100 years ago with the fall of the Ottoman empire." According to the network's reading of the statement, the new caliphate "stretches from Iraq's Diyala province to Syria's Aleppo."
But this declaration, delivered by the group's chief spokesman Abu Mohammed al-Adnani, could mean much more. Charles Lister, a visiting fellow at the Brookings Doha Center who specializes in counterterrorism and insurgencies, said this could signal the birth of a new era of transnational jihadism.
, just below the surface in ISIS' battle for Iraq is a clash between two "arch-terrorists": the head of al-Qaida's central operation, Ayman al-Zawahri, and al-Baghdadi, whose organization was banished by al-Qaida over tactics.
, the declaration issued today () means that "all jihadist organizations are now abolished … [and] must pledge [allegiance] to Baghdadi."
In an email Lister goes on to say that this is essentially a declaration of war by Baghdadi against Zawahri. Over the next few hours and days, organizations will begin to pledge allegiance.
"Al-Qaeda will retain considerable support and once the dust has settled, we will very likely find ourselves in a dualistic position of having two competing international jihadist representatives –- Al-Qaida, with a now more locally-focused and gradual approach to success; and the Islamic State, with a hunger for rapid results and total hostility for competition," Lister says.
Baghdadi was born in Samarra in 1971. He joined the insurgency after the U.S. invaded Iraq and at one point spent time in an American military prison. In 2005, U.S. forces said they had killed Baghdadi, but that was obviously incorrect.
Baghdadi is believed to have taken a leadership role in ISIS in 2010. The AFP adds:
"Since then, details about him have slowly trickled out.

"In October 2011, the US Treasury designated him as a "terrorist", and this year, Iraq released a picture they said was of Baghdadi, the first from an official source, depicting a balding, bearded man in a suit and tie.

"US officials said last year that the jihadist was likely in Syria, but information of his whereabouts since has been unclear."
ISIS also said that it will now be known simply as the Islamic State.
http://www.npr.org/blogs/thetwo-way/2014/06/29/326703823/al-qaida-splinter-group-isis-declares-new-islamic-caliphate
---
ic State of Iraq and the Levant (Isis) has reportedly declared the areas it occupies in Iraq and Syria as a new Islamic state, removing Iraq and the Levant from its name and ushering in "a new era of international jihad".
The announcement will see the Isis now simply refer to itself as The Islamic State, and the group has called on al-Qa'ida and other related militant Sunni factions operating in the region to immediately pledge their allegiance.
According to Isis's chief spokesman Abu Mohammed al-Adnani, the declaration of the "restoration of the caliphate" was made after a meeting of the group's Shura Council. In recent weeks, Isis has captured large areas of western and northern Iraq and for two years has held parts of Syria, imposing a harsh interpretation of Islamic law and in many cases, killing large numbers of opposition Shia Muslims.
Adnani said all jihadist organisations must now offer up their support to Isis leader Abu Bakr al-Baghdadi, who has been declared Caliph of the new state.
Charles Lister, visiting fellow at the Qatar-based Brookings Doha Centre, said that the declaration signalled "massive trouble" regardless of the perceived legitimacy of the Isis group, adding that the next 24 hours will be "key".
Iraqi Kurdish forces take position as they fight jihadist militants on 29 June in the Iraqi village of Bashir, 20km south of the city of Kirkuk (AFP/Getty Images) Charlie Cooper, a researcher for the Quilliam counter-extremism think-tank, said the fact Baghdadi has been named Caliph was particularly controversial.
He told The Independent: "There hasn't been a Caliph since the Ottoman Empire outside of the Ahmadiyya sect of Islam, and the Caliph is appointed as the only legitimate successor to Prophet Mohammed."
"The fact that Isis has done this has huge ideological and theological implications and it is a big challenge to al-Qa'ida, their spokespeople may well try to reclaim their legitimacy."
In the latest example of Isis' sophisticated use of social media, Cooper said a new propaganda video released 15 minutes before the announcement included a "hint" towards what was about to come, with a Chilean foreign fighter describing Baghdadi as his "Caliph".
"Everything that Isis has done has been very tactical with meticulous in planning," he said.
"There will be a lot of criticism from people saying announcing the restoration of the caliphate is premature, but Isis have rapidly evolved over the past few years and there's now a cult of personality about Baghdadi in Arabic social media.
"He is a very popular figure, and this will make people from al-Qa'ida and other groups question whether they should really be fighting for him."\
The news came as the Iraqi army was reportedly pushed back by rebel fighters protecting insurgent positions in the northern city of Tikrit today.
The military began its attempt to win back control of the city on Saturday, with a multi-pronged assault spearheaded by ground troops backed by tanks and helicopters.
Security officials said the army was coordinating the campaign with the US, but reports from the ground suggested it had been forced to pull back to the town of Dijla, 25km to the south, after a failed assault in which both sides suffered casualties.
Meanwhile, Iraqi officials said they had received delivery of the first Russian fighter jets it has bought second-hand to help stop the militants' advance.
The five Russian Su-25 planes are expected to enter service in the next three to four days, with more of the planes understood to be arriving soon.
Iraqi air force commander Anwar Hama Amin said the military is "in urgent need of this type of aircraft during this difficult time".
Iraq's Prime Minister Nouri Maliki has blamed much of the rebels success on the Iraqi military's lack of air support. The country signed contracts to buy F-16 jets from the USA, but has been slow in receiving them.
He said Iraq is also hoping to acquire second-hand fighter jets from Belarus. The deals are together thought to be worth about $500 million (£293m).
The UN says that more than 1,000 people, largely civilians, have been killed in fighting between Iraqi forces and the rebels.
The US has now deployed drones to the region around Tikrit, Saddam Hussein's home town, though the White House said it has not yet authorised air strikes against militants and the drones will only be used for 'force protection'.
Other countries including Iran are thought to have stationed military equipment and forces in the region.
Professor Peter Neumann, of the International Centre for the Study of Radicalisation at King's College London, said the significance of the announcement should not be underestimated.
"It's a declaration of war – not only against the West and all the countries that are currently fighting Isis but, more importantly, against al-Qa'ida. Isis now see themselves as the legitimate leaders of the movement and they expect everyone to fall in line.
"For ideological jihadists, the caliphate is the ultimate aim, and Isis – in their eyes – have come closer to realising that vision than anyone else. On that basis, Isis leaders believe they deserve everyone's allegiance.
"This could be the end of al-Qa'ida. It depends on how al-Qa'ida will respond. Unless they come out fighting, this could mark the end of [Osama] Bin Laden's vision and his legacy."
Prof Neumann said the declaration of a caliphate showed how confident Isis was after making spectacular gains in Iraq in recent weeks.
"They haven't lost any of the momentum they gained when capturing Mosul," he said. "On the contrary, they've held on to it, gained more territory and have seen jihadists from other groups swear allegiance to Isis.
"They must think their dream of creating the caliphate is finally coming true, and it's coming true faster and more dramatically than even they expected."
source – http://www.independent.co.uk/news/world/middle-east/isis-declares-new-islamic-state-in-middle-east-with-abu-bakr-albaghdadi-as-emir-removing-iraq-and-syria-from-its-name-9571374.html
---
BREAKING NEWS– Alarabiya
ISIS jihadists declare 'Islamic caliphate'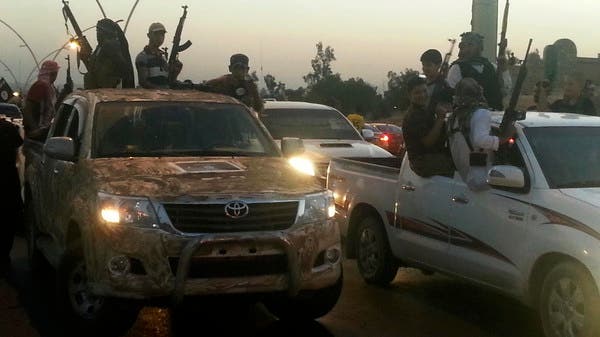 Fighters of the Islamic State of Iraq and Syria (ISIS) celebrate while sitting on vehicles in the city of Mosul. (File photo: Reuters)
By Staff writer | Al Arabiya News
Sunday, 29 June 2014
Jihadists fighting in Syria and Iraq announced Sunday the establishment of a "caliphate," referring to the system of rule that ended nearly 100 years ago with the fall of the Ottomans, Agence France-Presse reported.
In an audio recording distributed online, the Islamic State of Iraq and Syria (ISIS) declared its chief Abu Bakr al-Baghdadi "the caliph" and "leader for Muslims everywhere."
"The Shura [council] of the Islamic State met and discussed this issue [of the caliphate] … The Islamic State decided to establish an Islamic caliphate and to designate a caliph for the state of the Muslims," said ISIS spokesman Abu Mohammad al-Adnani.
"The jihadist cleric Baghdadi was designated the caliph of the Muslims," said Adnani.
Baghdadi "has accepted this allegiance and has thus become the leader for Muslims everywhere."
"The words 'Iraq' and 'the Levant' have been removed from the name of the Islamic State in official papers and documents," Adnani said, describing the caliphate as "the dream in all the Muslims' hearts" and "the hope of all jihadists."
Ever since the Prophet Muhammad's death, a caliph was designated "the prince" or emir "of the believers."
After the first four caliphs who succeeded Muhammad, the caliphate lived its golden age in the Omayyad empire from the year 661 to 750, and then under the Abbasids, from 750 to 1517.
It was abolished when the Ottoman empire collapsed in 1924.
http://english.alarabiya.net/en/News/2014/06/29/ISIS-jihadists-declare-caliphate-.html
---
Become A PZ Insider and Help Support our Work Here

When you login with your PZ Insider login, you will notice a lot of areas opening up to you via our top navigation bar. Where there was nothing, no you are presented with links to different areas of the Prophezine website.
PZ INSIDER AREA
We have our PZ Insider Area where we archived past issues of The PZ Insider Report, links to PZ Radio and links to past PZ Survival News. You also gain access to articles that are coded only for PZ Insiders. When you see are NOT logged in, you will see a message telling you that you need to register, become a PZ Insider or login to read the different articles on the Prophezine website.
PZ SURVIVAL AREA
We have our PZ Survival area where we have the PZ Prep Library which consists of downloadable PDF files / eBooks to help you learn more about …
Food storage
Gardening
Medical
Odds & Ends
Preparedness
Raising Animals
Self Defense
We have our video section as well as "How To" articles dealing with varied topics, links to our Survival 4 Christians videos and links to our other preparedness information.
UNDERGROUND
When you LOGIN as a PZ Insider you will notice the top navigation bar change and add our UNDERGROUND link.
More and more people are becoming concerned about intrusion into their private lives. One might say "I have nothing to hide, so why should I care."
What would happen if our own nation became hostile towards bible believing Christians?
Now do you have something to hide?
I personally believe that this is something that we seriously need to start taking into consideration. I believe that we need to start thinking about networking with each other, teaching each other and being a source of encouragement to each other now instead of later.
It is my desire for PZ Insiders to have an area where they can learn more about dealing with the topic of going underground like many churches in persecuted countries have previously done.
As I find more information, I will post it to the PZ UNDERGROUND area. I will also be adding files to the PZ Survival Library to support this area as well.
We also have our the articles that are open to our registered PZ Members, our PZ Forum as well as our "Who's Who" in Bible Prophecy area. The who's who area is a ongoing project that is constantly being changed and updated.
Become A PZ Insider
Monthly ($10.00) – http://tinyurl.com/Become-A-PZ-Insider
Monthly ($15.00) – http://tinyurl.com/PZ-Insider-15
Monthly ($20.00) – http://tinyurl.com/PZ-Insider-20
Monthly ($25.00) – http://tinyurl.com/PZ-Insider-25-Monthly
Every 6 Months ($50.00) – http://tinyurl.com/PZ-6-Month-Subscription
Yearly ($100.00) – http://tinyurl.com/PZ-Yearly-Subscription
If you just want to just help and give, please use the following URL… Donate – http://tinyurl.com/Donate-to-Prophezine
If you have questions, please do not hesitate to ask.
=-=-=-=-=-=-=-=-=-=-=

Help Support Prophezine
http://tinyurl.com/Donate-to-Prophezine
On Facebook? Friend and Follow us at – https://www.facebook.com/RayGano
Twitter? Follow us at – https://twitter.com/RayG_Prophezine
---